Thanks to their contemporary designs Gas BBQs can add instant cool to any outdoor space. And in general, upgrading your outdoor space is probably much easier than you think. When it comes down to it you just need to combine elements that promote comfort, relaxation, social interaction and some functionality.
And you don't need acres of land either. Whether it's a football pitch sized patio or a simple balcony, with a bit of creativity you can incorporate each of the elements below into whatever size you have to work with. Read on and turn your regular space into a spectacular place.
Comfortable Seating and Easy Dining
Naturally, your space needs to be comfortable. Make sure you provide enough seating options for your guests. And it all counts too. Consider a mix of outdoor sofas, chairs, benches and even hammocks. Cushions and pillows with weather-resistant covers enhance comfort.
Include a dining space with a table if possible. Even if it's not for actual dining from, having a table is great for side dishes and extras. It just helps make things feel more comfortable.
Having a covered area allows you to enjoy the outdoors in various weather conditions and allows guests to cool down if needed in the hottest of weather. Incorporating shade elements like pergolas, umbrellas, awnings, or even mature trees to protect against the sun and in the worst-case scenario, rain.
A bar can also be a great addition for serving drinks and snacks if you have the space.
Lighting and Landscaping
Perhaps nothing is more crucial for creating an inviting atmosphere than lighting. And a well-maintained garden or space just contributes to an overall pleasant environment.
A combination of ambient and accent lighting will look great and create the right mood as the sun goes down. And it goes beyond just the immediate area. Try string lights, lanterns and pathway lighting around your whole outdoor space.
Plants, flowers, shrubs and trees will soften the space and add natural beauty. Consider using native plants for low maintenance.
Choose materials and landscaping that are easy to maintain to ensure the space remains inviting and enjoyable over time. If you have the space, you can create a sense of privacy with fencing, trellises or screens covered in climbing plants. This allows guests to relax without feeling exposed to neighbours or passersby.
The soothing sound of running water from a fountain, pond or water feature can create a tranquil atmosphere. Water can also help mask unwanted noise from nearby streets.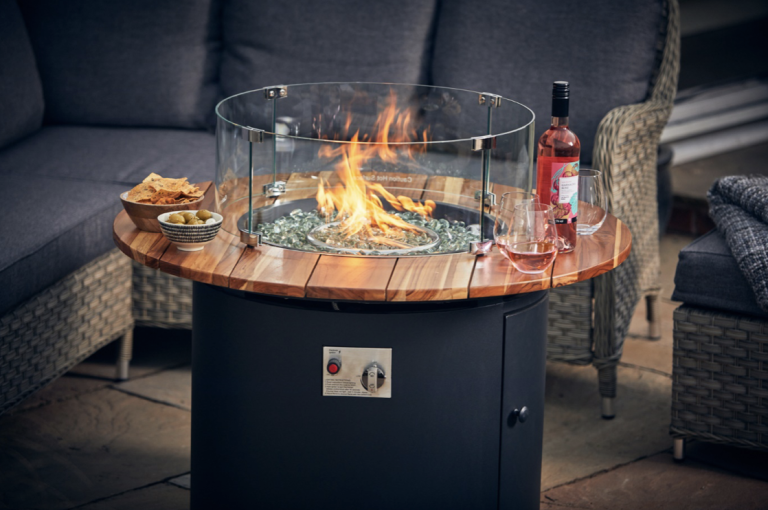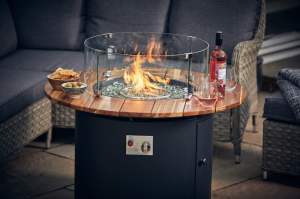 A fire pit or outdoor heater can also serve as a focal point and provide warmth and ambiance during cooler evenings. It also encourages guests to gather around and socialise.
Also Read: Creating an Outdoor Living Room Around a Fire Pit
As a final touch don't forget methods for insect control, such as citronella candles, torches or screened-in areas if bugs are a concern. These can also double as mood lighting and add to the appearance of your outdoor area.
The Personal Touch
Ensure that the layout and furniture arrangement allow for easy movement and interaction among guests. In this way modular furniture can provide flexibility in arranging seating and allows for flexible arranging depending on how many guests you have.
Add personal touches like sculptures, decor or even artwork that reflects your style and personality. Cosy furnishings like blankets, cushions and outdoor rugs add a homely and inviting feel. A few throw pillows and warm blankets on the furniture can make a big difference in the feel and comfort of the space.
And don't forget entertainment options like a music system or board games to keep guests engaged and entertained. Depending on what's happening you might like to incorporate a TV into the mix for the big game.
Add a BBQ
Naturally we think BBQs are the heart of outdoor entertaining.
Barbecues may be the reason for the get-together, but just having an outdoor space with a BBQ adds instant style. Our BBQs are designed to not only be functional but to look incredibly stylish and level up your outdoor space.
And combining a gas BBQ with a fire pit can really add the finishing touches to any outdoor space.
What's more our range of gas barbecues includes six, four or two burner models – perfect for different size spaces.
But if you prefer the tradition of grilling over coals our charcoal barbecues look the part too. Or go all out with a roast box.
Can These Really Work in Smaller Spaces?
Yes. Creating the ideal gathering in a smaller space just requires some thoughtful planning and creativity. For example:
Folding chairs, collapsible tables can be adapted to the size of your party and easily stored when not in use. Place seating on the perimeter to create the maximum space.
Wall-mounted planters, trellises and hanging baskets can add a lush, garden-like atmosphere without taking up precious floor space.
Retractable awnings and pop-up canopies that can be easily opened and closed as required to provide shade and protection.
Use string lights or LED candles to create ambiance without cluttering the space.
Select a few carefully chosen decorative elements, such as outdoor cushions or small sculptures, to add character without overwhelming the space.
Try a portable grill if space is really tight. This can be easily stored when not in use.
Stick to a consistent colour scheme to create a sense of cohesion and make the space feel larger. Lighter colours tend to 'open up' small spaces.
Be open to rearranging furniture and decor to adapt to different types of gatherings. Keep it flexible and simple.
Remember that in a small outdoor space, less is often more. Prioritise what's most important to you and your guests.
Final Thoughts
The ideal outdoor gathering space caters to your specific needs and preferences, so adapt these elements to suit your own personal style and the size of your outdoor area.
It's definitely easier to start simple and gradually expand and add more features to your outdoor space as your budget and preferences allow. You'll probably find that the process of creating and using your outdoor spaces as an extension of your living space is creative and enjoyable.
And keep it neat. Regular maintenance and updates will help ensure your space remains enjoyable for years to come.