BBQ traditionalists and enthusiasts say that charcoal BBQs offer the only real outdoor grilling experience. Apparently gas just doesn't cut it in flavour terms. Only charcoal creates that smoky deliciousness and that sense of 'proper' grilling.
With an Outback gas barbecue, you get total temperature control and there's no messy ash to clear up. So, what's the timeless appeal of a charcoal grill?
In reality, there is so much more to a charcoal grill than just the potential of rich, deep BBQ flavours.
Once You Learn How to Grill with Charcoal
And if you're just starting out and want to become a grilling aficionado, charcoal is a great place to start…
… because once you know how to grill using charcoal, you can easily grill over gas. But it may not be the same the other way round.
So, what's the trick to buying a great charcoal grill? Choose Outback, of course. But seriously, if you're gearing up for grilling and serious about searing there's more to understand when it comes to a charcoal grill.
The Experience
It's a big deal. Traditionalists will argue there is something that just feels right about setting coals alight and building your barbecue. It's the real experience… the smoke, the sizzle of fat on coals…
Perhaps the reason so many people say charcoal gives the best taste is a bias towards the whole experience of lighting the fire? But, gas or charcoal, we know it's a personal thing. And that's why we also created a range of hybrid barbecues, to blend the best of both. You can read our guide to Outback hybrid barbecues here.
If you're just beginning your grilling journey, a charcoal grill offers a range of advantages.
If you start out grilling on charcoal, you can easily grill on gas. And for a beginner, the price point is lower than a gas grill too. That doesn't mean choose a cheaper, unbranded model – for reasons we'll go into later.
In general, a charcoal barbecue is straightforward to use and master the cooking techniques, before you move on to the top-notch BBQ recipes that might require greater temperature control. Charcoal grills allow you to create a wider temperature range, so, depending on the model you choose, charcoal is ideal for smoking, moderate cooking, and white-hot searing.
What's more, you can easily create heating zones with a charcoal barbecue, or learn the ropes for grilling in this way.
---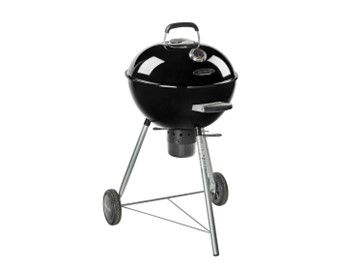 Comet, Outback's Classic Kettle Charcoal Grill
Designed for its simplicity, the Comet kettle grill is a garden staple. It's simple to use, robust and you can rely on it time and time again to deliver the grilling goods.
The spherical shape of the Comet kettle grill helps keep the heat in and reflect it around inside, so you get evenly cooked food. The large capacity ash collector is brilliant for quick and tidy, clean ups.
Features a handy chrome heat indicator and cooking grill, air vents and hub-capped wheels.
---
Charcoal Barbecues Design
When we design our charcoal grills we know what it's like to grill in the real world.
And while charcoal BBQs are often noted for their simplicity, a well-designed  grill offers all sorts of cooking experiences, including searing and smoking, which is not necessarily available with gas.
From the lid to wheels, to the size of the grill, good barbecues are designed to give you the best experience when cooking. And you want the best outcome, that's why buying a cheap model isn't the best move.
Your cheap charcoal barbecue isn't worth the money if it's difficult to use. It's worse still if it's wobbly. Hot coals and an unstable BBQ really are a bad mix.
And what's affordable at first may literally crack under the pressure and heat of real-world barbecuing.
So when choosing your charcoal BBQ, look for features including:
Sturdy wheels make the barbecue easier to move around
General stability and build quality
Lids that allow you to keep the heat in
Temperature gauges
Vents that deliver excellent temperature control and air flow
Ash collection and easy to clean parts
Weather-resistant side tables for those extras
---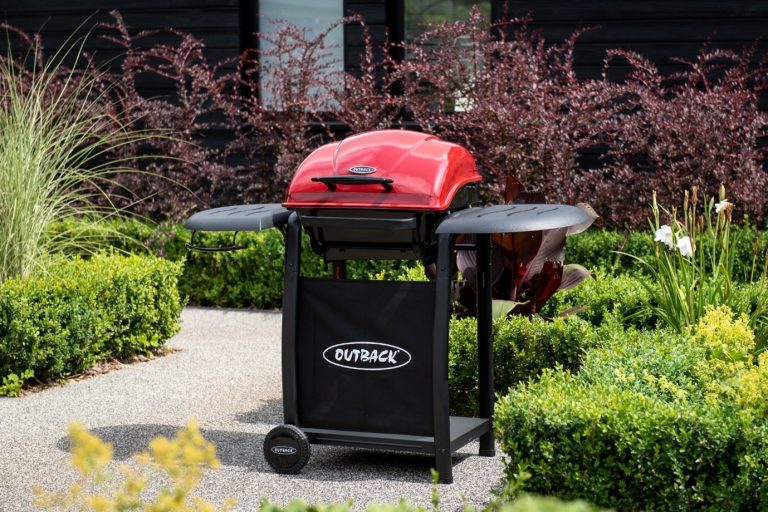 Omega 201, A Family Favourite
With a porcelain-coated grill and warming rack, our Omega 201 charcoal BBQ is perfect for a family get-together. The grill size and shape makes distributing direct heat evenly across the coals super simple.
Plus, there are two weather resistant side tables – one featuring a handy tool rack to store plates and extras. It also has extra storage space on the base.
---
Lifting the Lid
Choosing a BBQ with a hood allows you to retain heat for longer and will make roasting, grilling or baking much easier (our Omega 201 model has a handy warming rack built into the lid too).
Exposing your food to oxygen (the air), can cause charring on the outside. Closing the lid keeps the food cooking nice and uniformly throughout. Having the lid down can stop food from drying out.
Vents help you control the burn, therefore the temperature, without the need to open the lid.
And a temperature gauge can really help you where what you're cooking requires precision cooking temperatures.
What Is the Best Way to Light Charcoal for a Barbecue?
Before doing anything make sure your barbecue is in an open space away from fences or trees. There's the risk that your charcoal barbecue could start a fire, if it were to set a tree or fence alight.
A chimney-style starter makes lighting charcoal super easy. Just add a few sheets of newspaper or other firelighters at the bottom. The coals will catch in no time, then when they're ready – usually after about 20 minutes – you can carefully tip them into the barbecue. It's great if there's a bit of wind because the charcoal starter helps protect the coals.
If you don't have a charcoal starter, arrange your charcoal in a pyramid-style stack.
Push newspaper or firelighters between the coals. Then light them and allow the coals to catch and wait until the flames have died down.
Your coals need to be ash to cook on.