There's no need to compromise on flavour when travelling the great outdoors. The Outback Trekker combines all the necessities of your kitchen and places them in one compact station for tasty meals miles away from home.
Whether you're going camping, enjoying a staycation, or spending the day at the park or on the local beach, you can still enjoy a quick but tasty meal.
There's no longer a reason why you'd need to settle for dull and uninspiring food when you're away from home. The Trekker widens your culinary choices, offering an on-the-go experience that's easy to set up and delivers time and time again.
Already convinced? The Trekker BBQ is available now on sale our website from £169.99 to £129.99, so click here to purchase. Or for the best experience, buy the bundle offer with the Griddle Plate and Table Top Legs to suit your catering needs.
Bring Your Kitchen with You
Having a Trekker with you on holiday or a day out with friends and family is like packing up your kitchen and fitting it neatly into the back of your car. It's portable, adaptable and easy to use, so you can keep everyone's tastebuds happy no matter where your next adventure is. It makes cooking in the outdoors not only easy, but a joy.
You'll won't need to dread the thought of cooking over a small, unreliable stove. Instead, the Trekker can adapt to your needs with long legs for the ground or short legs for a table top.
With easy assembly in just 15 minutes, it offers a hassle-free solution to cooking outside and means you won't have to wait ages for good food. So you can spend more time doing things you actually want to be doing on holiday.
It's Like Cooking at Home
With gas-controlled cooking, the Trekker brings the convenience of cooking at home to the outdoors.
The temperature gauge helps combine a high standard of cooking with the outdoor experience, so you won't need to rely on a tin of beans when you're peckish. Yes, you can wave goodbye to the days where camping-friendly food was boring.
Combining Outback multi-cooking surfaces with your Trekker allows you to get creative when you're away with your BBQ, so you're no longer limited to just BBQ cooking.
Our saucepans, griddles and kettles are compatible with your Trekker so you can create a range of dishes… not just burgers. Think pancakes in the morning, a fry up for lunch and steak with grilled veggies for dinner.
Less Time Faffing, More Time Holidaying
Watch our video to see how quick and easy the Trekker is to assemble. It means you can cook tasty food quickly, so you have more time to enjoy your time away. The helpful grease trap also allows for easy cleaning, so your time isn't taken up with washing.
With the Trekker only weighing 15kg, it's easy to transport and doesn't feel like you're lugging heavy equipment about.
Purchase the additional carry bag to keep everything neat and tidy so to keep everything you need in one place. You're less likely to forget an important component that way.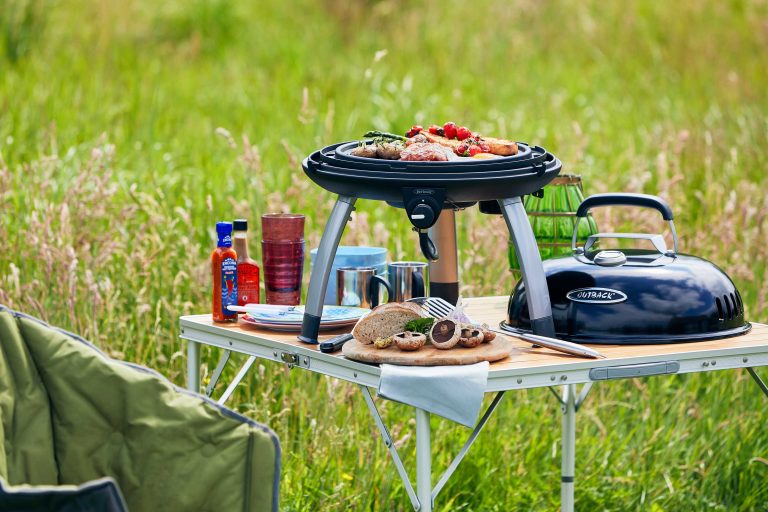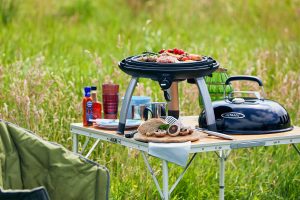 The adaptability of the Trekker is what makes it so convenient. It's easy to clean so you can use it again and again, from breakfast to dinner, and the variety of additional tools available means you can cook exactly what you would at home. It's your kitchen but with the scenery of the great outdoors.
Additional Extras for a Better Experience
For the optimal Trekker experience, you can purchase three optional extras to widen your cooking horizons and save £20 when buying in a bundle. These additions can help create meals you'd eat at home, swapping your dining room for a view of the great British outdoors.
This piece of equipment will help you make the most out of your Trekker. Cook anything from pancakes to a fry up or treat yourself to a steak while camping. No matter the time of day, you'll be able to put your Trekker to good use. It's reversible and coated in porcelain enamel, making for an easy clean so less time washing and more time enjoying yourself.
If you'd like to use a pot, pan or any other vessel, this cooking Vessel Support is compatible with your Trekker for versatility. You can still enjoy your morning coffee or whip up a hot chocolate if you fancy it.
Your Trekker can become even more versatile when you buy the table top legs. Replace the longer legs to keep the Trekker close to you while chopping other food or sit back and get comfortable whilst it cooks nearby.
Ready to elevate your on-the-go BBQ experience? Buy the Outback Trekker BBQ now on our website for just £129.99, click here to purchase. You'll wonder what you did without one.