If you love getting the most out of your Outback gas BBQ, you don't want to limit yourself to only using it in the summer. But if you're giving Veganuary a go, you might feel a bit stuck with what to get grilling. We're here to tell you that meat doesn't always have to be the star of the barbecue show. Quite the statement, we know!
To help, we've conjured up a range of delicious BBQ vegan goodies oozing with flavour and so damn tasty that you might be tempted to continue this whole vegan thing past January. If not, it's also a great chance to try out some vegan side dishes to cater to all when friends visit in the warmer months.
From bold beetroot burgers to sizzling veggie skewers, there's something to everyone's taste on our list. Even the carnivores will be satisfied with the cauliflower wings!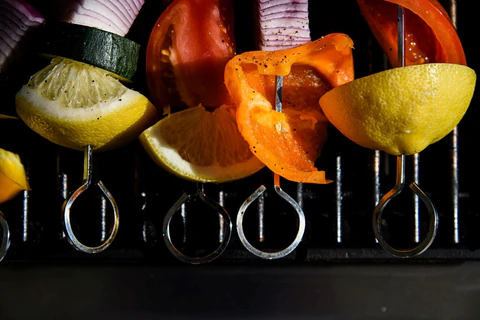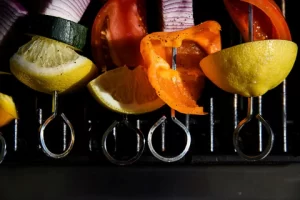 Veggie Skewers
These delicious vegetable skewers are an easy win. Decorated with beautiful colours, veggie skewers are the perfect side dish for a vegan BBQ. Not only can you personalise them to suit your guests' tastes, but they're also super easy to prepare. From red onion to bright, bold peppers and sweet zucchini, the choice is yours.
Load your skewer up with your desired veggies and place on the gas BBQ grill, which is already at medium-high heat. Grill for around 5 – 8 minutes, or until the vegetables look soft and slightly charred. Once cooked, glaze with your chosen sauce and serve!
Top tip: To prevent your skewers from burning, soak them in water for 15 minutes before cooking.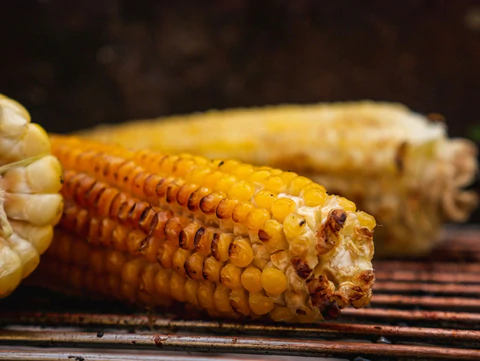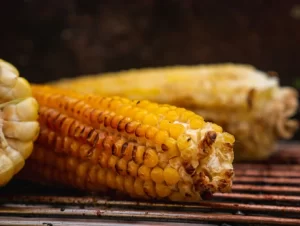 Grilled Corn
Another barbecue classic, grilled corn adds the perfect textural crunch you need on your gas BBQ this January. Remember to forget the non-vegan butter and instead brush olive oil over the top to give it a nice, even char.
Corn is a hassle-free option and only takes around 15 minutes on the grill. Make sure the grill is hot before adding the corn and keep turning it to avoid burning, with all sides grilled evenly. Add it to your salad for a tasty crunch or enjoy it on its own.
BBQ Courgette
Grilled courgette offers a lovely bitter taste to your vegan sides. It's so simple as well. All you need to do is slice your courgette into thin strips, slather some oil on top and grill until you can see char marks. You can top them with whatever you fancy as well, like a salsa verde.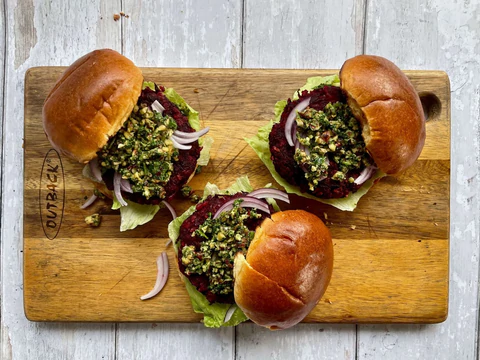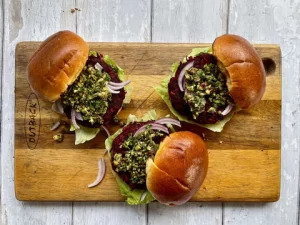 Beetroot Burgers
We've talked about all thing's sides, now it's time for the main event. We've created our very own twist on the beetroot burger, garnished with a hazelnut and zingy chilli pesto.
Full of flavour and easy to make, these burgers are the perfect alternative for Veganuary. Read our full recipe here.
Grilled Tofu
Another meat alternative that can be grilled is tofu. Some people dislike tofu for lacking flavour, but using a simple marinade can make all the difference. Put your desired ingredients into a bowl to marinade your tofu (we like the sound of olive oil, soy sauce, Cajun spices, honey and salt).
Slice the tofu and rub in the marinade, letting it sit for at least 15 minutes (or cover overnight in the fridge for the best results). The tofu will only take around 3 minutes to char on medium-high heat.
Cauliflower Buffalo Wings
Another Outback original is our cauliflower buffalo wings. Cauliflower is a great vegetable to grill as they char nicely but stay soft on the inside. We love to pair it with our buffalo sauce, combining hot sauce with vegan butter. Read our full recipe here to find out how to make them.
Grilled Mushrooms
Ready in just 10 minutes, large portobello mushrooms are a great accompaniment for any BBQ. Enjoy them as a side, or pair them with a bun to make a burger.
To give some extra flavour, create a marinade for your mushrooms. Combine balsamic vinegar, olive oil, garlic granules, salt, pepper and rosemary together in a bowl. Place all over your mushrooms for at least 15 minutes before grilling. Then grill your mushrooms for around 4 minutes.
Black Bean, Butternut Squash and Avocado Salsa Taco
For something a bit different, try our very own black bean tacos with butternut squash grilled on the barbecue. Garnished with fresh avocado salsa, creamy black beans and charred butternut squash, this has everything you need for a tasty BBQ snack. Read the full recipe here on our website.
Grilled Peaches
Finish your BBQ meal off with some dessert, and what's better than grilled peaches? Not too heavy and perfectly sweet, all these peaches need is a touch of maple syrup before grilling. Add a sprinkle of cinnamon before serving if you're feeling fancy!
Get Your Grill On
If you're hoping to add more vegan cuisine into your lifestyle, there are plenty of tasty options you can create using your Outback barbecue. We hope this blog has helped inspire you with an array of new vegan-friendly dishes you can try out at your next barbecue gathering.
For further inspiration, take a look at our recipe page for a collection of simple ideas to wow your guests. If you have a go at any of our recipes, show us your goodies by posting your pictures on social media and tag us, @outbackbbqs, and use the hashtag #myoutbackbbq.