Just because it's winter, it doesn't mean that you can't say yes to a garden party. Whilst many are probably waiting for the warmer months to soon come along, with the right equipment you can become a trendsetter and get an early start to the celebrations.
Let's take a look at some of that equipment, particularly our fire pits, as well as discuss some reasons why it's good to invest in gatherings outdoors, while we wait for winter to subside.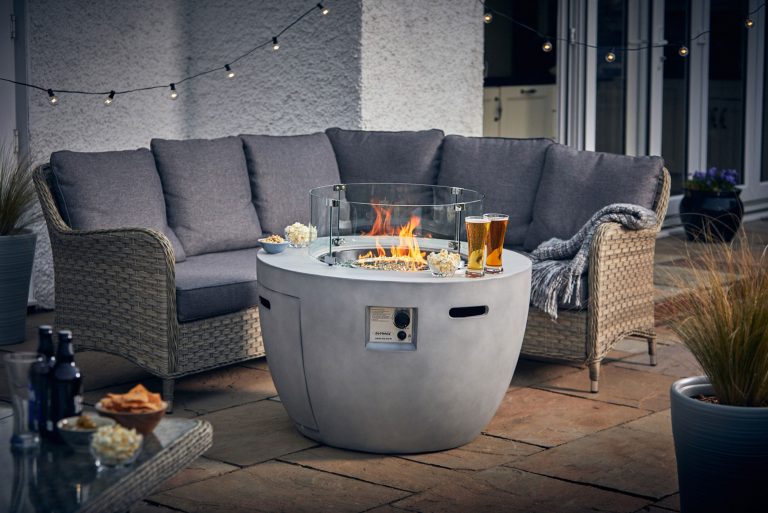 Reasons to Socialise Outside Even in Winter
With fire pits, patio heaters and other equipment enabling us to comfortably "chill out" in our gardens (without feeling too much of the chill), let's look at the benefits of socialising outside.
It's healthy – the fresh open air is good for us and means less chance of spreading any germs or illnesses.
No gnats or bugs yet – if it's winter or autumn, you won't be bothered or feasted on by the pesky gnats that bother us on summer evenings
It's a good chance to show off our snazzy new winter coats that we might have gotten for Christmas, getting the most out of them. Good food and a few beers will also keep you warm.
You could even have a barbeque in winter – there's no rules against this, you'll just need to turn the heat up a bit higher.
There's also a lot of romantic potential, alone time, sitting over a fire pit, need we say more?
Considering Lighting in Winter
Though in winter we have to compete with the fact that by around 4pm it'll be dark, the light from a good fire pit will see to that problem. You can also hang some fairy lights around your fence or along your house, so you have some nice low light but nothing too bright, artificial and mood-killing.
Bring Out the Fire Pits
Now that we've convinced you there ain't no party like a winter fire pit party, let's take a look at some of the products, their features, and why people love them.
The Sherwood Gas Fire Pit
Available exclusively on Outback's official online store, the Sherwood gas fire pit is a versatile and traditional looking asset for your garden. It features a wooden table top made from teak (a durable, water-resistant hardwood) that allows you to rest your food and drinks on the side, with a protective glass windshield safely separating anything you put on the table top.
The black aluminium base presents a very sleek and stylish look. Featuring a small door for internal storage of a 5KG patio gas bottle, which customers prefer for aesthetic and safety reasons (you don't want to just leave unattractive looking gas bottles exposed and lying around the place).
With its natural aesthetic, it keeps an incredibly clean and tidy look. To maintain this look, it includes a stainless-steel cover and an all-weather cover for easy protection.
The Sherwood Fire Pit features a hose and gas regulator and electronic ignition. It's also very compact and at 60KG should only need two reasonably active people (one at each end) to move – if a change of garden layout is desired down the line.
For more details and specifications on the Sherwood Gas Fire Pit, check it out here. We also have some very positive reviews and feedback from customers who purchased this item, with one very detailed review saying it looks even better in real life and praising the high quality of the wooden tabletop, which is definitely a standout feature for this model.
The Infinity Gas Fire Pit
The Infinity Gas Fire Pit shares many features with the Sherwood; an internal storage area for the gas bottle and a protective windshield, but features a very different aesthetic.
Produced using a decorative mix of cement and sand (Stucco) material, the Infinity Gas Fire Pit has a smooth stone effect and an upside dome shape that allows it to blend seamlessly into a natural garden setting. It almost looks like a boulder with buttons, with the white weather cover complementing this look further.
It has the perfect appearance for external storage and at 64KG is only slightly heavier than the Sherwood, two to three people should make fairly light work should you need to adjust its position in the garden and there's a few handle holes to grab onto.
The Infinity's design still gives you the ability to use its table top area as a surface for drinks and food, whilst the glass windshield prevents you from spilling your beer and putting out the fire! There is also a push button ignition for ease of use.
For more information on the Infinity Gas Fire Pit, click here. We also have some glowingly positive reviews for the Infinity and would like to thank our loyal customers for waiting for the new stock to come in.
Need Help Choosing?
Both the Infinity and Sherwood share a lot of the same functions and features, the biggest difference is the overall aesthetic and price. The Sherwood is priced at 699.99, whilst the Infinity is priced at £499.99, so the Infinity makes an excellent choice if your budget doesn't quite stretch to the Sherwood.
Both come with essential accessories, so no additional purchases are necessary. The accessories include items and features such as the protective windshield, a tabletop space for food and drink, weather covers, and internal storage which keeps everything looking tidy and prevents tripping hazards.
They have both also been praised by customers for their inclusion of decorative glass beads, which sparkle in the fire and add an extra beauty to the pits.
It all depends on which look you prefer the most and what matches with it. The natural style of the Infinity would look great in a grassy garden that maybe already has some stepping stones or a fish pond. Whilst the Sherwood would match great with a garden that has a bigger patio area, with lots of paving and perhaps some artificial grass.
These are of course just one set of suggestions, it's completely up to you what you think is best for your garden and style.
Enjoy Outdoor Living
Whichever you decide to pick, a fire pit is a beautiful addition to your garden and will extend your time outside, keeping you warm whilst you are socialising, relaxing and getting fresh air.
For more products from Outback, check out our barbecues and patio heaters that will make the garden your new favourite place.